There is nothing like a bright pop of pink to make any day brighter. With Valentine's Day just around the corner (ahem… TOMORROW!) I am feeling full of l-o-v-e and craving dressing in pink – which isn't much different than a normal day 🙂
Lately I have been challenging myself to think of new combinations with my closet- whether it be mixing pieces together in a new way, or in today's case, mixing colors that I wouldn't normally. I loved the classic look of this olive vest, but it hung in my closet for awhile as I couldn't figure out what to pair it with. All of a sudden it came to me… "think pink!" The juxtaposition of bright pink + olive is the perfect combination for this bright, sunny, cool weather.
Now that I have the outfit, I'm ready to say "Olive you" to all the special people who fill my life with love every day! If you are not in love at the moment (you're in good company 🙂 ) remember that it doesn't stop you from spreading love tomorrow, and every day of the week!
Pink Blouse: Lilly Pulitzer (similar pink here) // Olive Vest: Old Navy (similar here) // Jeans: Loft (here) // Shoes: Elliott Lucca (similar here) // Watch: HSN (here) // Bracelet: HSN (here) // Ring: HSN (here)
I hope your heart is overflowing with love friends!
PS- Today I am once again linking up with Perfectly Coutured and Everyday Fashion and Finance for Three-for Thursday- check out their links to join in on the fun!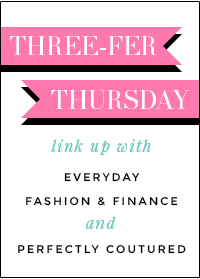 0