Striped Tee: Loft (old, great alternative) // Shorts: Loft (from early summer, love these) // Sandals: Jack Rogers // Long Necklace: Lia Sophia // Anniversary Necklace: Heirloom // Watch: Randy Jackson (old, love this) // Ring: HSN (similar)
Hey y'all! If you're joining me from the Spotlight Weekly Linkup- WELCOME! I'm so glad to have you here and am thrilled to be co-hosting today! This is just too much fun 🙂
Now onto the clothes… I'm not very good at wearing "neutrals"- brights are more my thing! But I fell hard for these floral shorts and thought they would be so fun for Florida's hot transition into fall. Doing a little pattern mixing with the striped shirt kept me bold- even in neutrals! Ya'll black + cream does not have to = boring!
Also, I'm wearing a very special piece of jewelry today- my grandmother's 25th Anniversary necklace from my grandfather. My grandma recently gave her grandchildren several heirloom pieces and this was the one I picked- and I love it. I especially love that it has their wedding bible verse on it, "Rejoice in hope"- the perfect reminder for every day.
Here are the link-up guidelines:


1. We kindly ask that you follow the two hosts: Elle from Living in Color Style on Bloglovin', Jacqueline from Stylin' In St. Louis via Bloglovin' and the guest host, Gentry of Girl Meets Bow! (The first three links in the link-up.)
2. Use the button provided on Elle or Jacqueline's side bar or link back to the link-up on your blog.


3. Enjoy reading other blogs and make new blogger friends!






Thanks for stopping by y'all!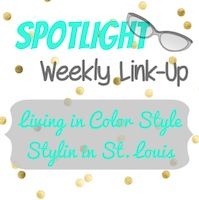 0