Well happy, happy new year friends!! I hope you had the best time celebrating (and plenty of time recuperating)! 🙂 I'm feeling super-fabulous about this new year and can't wait to see what is coming! So let's kick it off with my weekly obsessions shall we?!



1. Have you seen the insane sale that J. Crew is having?? It's a winner that is for sure! After seeing my blog-friend Allie rave about this tassel trim top– I picked up two! (For $29 can you blame me??) Use code STYLE2015 for 40% off sale items – and let me know what you picked up! 🙂


2. Sales are all around! I didn't hesitate to pick up this adorable fit and flare dress from Banana Republic when they offered 50% off sale items (with code "BRSALE"). It's going to be so perfect for the office this spring with cute pumps!


3. Speaking of pumps in the office… it's an unofficial goal of mine to wear more heels this year! That means I need to invest in some fabulous basics (the one thing I never stock up on!) Do you have a favorite pair of heels that are trusted and true?? Do share… Until I hear from you I'm considering these, these, and these– thoughts?!


4. If you do nothing else today, you must read this incredible post from Bloom (a blog I adore). 2014 brought me to an incredibly hard period of waiting, and patience isn't my strength. Nicole gave such beautiful encouragement to me through her words, and I pray that if you find yourself in a waiting period too that this encourages you!


5. This. Song. On. Repeat. Listen now and thank me later (when you can't stop singing it).
Enjoy your weekend y'all! See you Monday with a fun new outfit!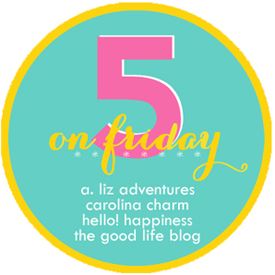 A. Liz Adventures
0